Frozen smoothies remind me of summer and although I'm not a smoothie fan, Kendyl loves them!! And they're so easy to make at home. No need to buy them at the store with all that sugar and preservatives added.
Ingredients:
Fresh or frozen fruit (we use 1/2 banana, about 4-5 strawberries, and a handfull of blueberries)
You do need a blender. Just fill the blender about 3/4 full of ice, add your fruit, and add a splash of skim milk (about 1/4 cup or more if you want). Blend.
You can even buy smoothie straws because regular straws tend to be small and hard to suck.
The best part is the leftovers. Instead of throwing it away, I fill popsicle containers with the rest. And Kendyl can have as many as she wants because they're so small. She loves that!
I bought these fun
ring pop molds
. It's a great alternative to candy ring pops!! I bought them on
amazon.com
but I also saw them at Pottery Barn Kids and at Ross (of course, this was after I bought them).
We also had more leftovers, so I put them in other popsicle molds.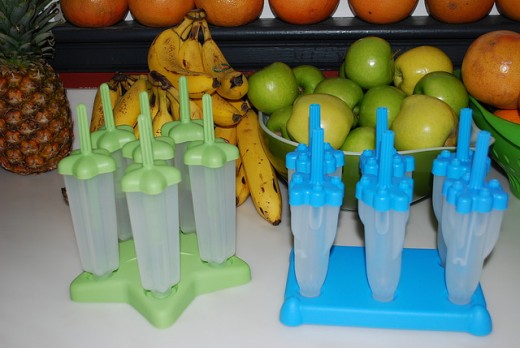 You can use any fruit you want to make delicious smoothie treats for the kiddos.
And I'm totally doing them when we have friends over! How fun is this!!??